NEWS FLASH: After many years of being out of print "The Muse Awakens" is now available. The Press Release is here. To place your order please click on the graphic below:
This wonderful coffee table book "Rockin' the City of Angels" celebrates the sensational albums and spectacular live performances staged in the Los Angeles area during the 1970's. It includes bands such as Yes, ELP, Pink Floyd, Genesis, Jethro Tull, Kansas, King Crimson, Queen, Rush and - "HAPPY THE MAN" even got a chapter. While we don't have any interest in the sales of the book, we heartily endiorse it as a very nice gift. More at this link: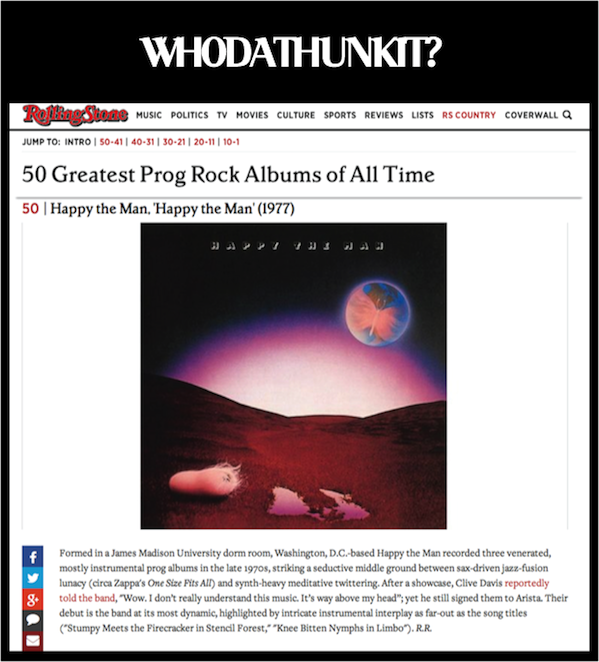 LINK HERE: Rolling Stone - Happy the Man
Great news! Esoteric/Cherry Red Records in the U.K. have struck a deal with Sony U.K. and will be releasing re-mastered versions of Happy the Man and Crafty Hands on October 29, 2012. These are the Ken Scott produced gems, which were originally released on Arista. Label boss Mark Powell has been working with Ben Wiseman and Paschal Byrne on the remastering - who have also re-mastered the entire Mike Oldfield catalogue for Universal - and their credits also include reissues of Camel, Caravan, The Moody Blues and Jack Bruce. They also worked with EMI on Peter Hammill, Steve Hillage and Steve Hackett. We are very excited to hear the new masters, and it's great that the Arista titles will get a new lease on life. Click on the names to see the sales one-sheets for Happy the Man, and Crafty Hands and click on the logo above to learn more about Esoteric Recordings and Cherry Red Records and to place your order for either CD click here.
The entire Happy the Man community is deeply saddened to learn about the loss of Andrea Riddle, on June 24, 2012. A number of years ago, Andrea welcomed the band with open arms, for an extended rehearsal stay at their Harvey Hill home in Ithaca. Her warmth and graciousness made us all feel right at home, like family. All our love, thoughts and prayers go out to Ron and the family members for their loss. The obituary is posted here.

Guitarist Stan Whitaker recently completed the vocals for a new musical project, and as a result of that - several very interesting interviews of Happy the Man alumni appear on the "All Things If" site. To read those interviews, focusing on Stan from Rick, Cliff, Mike, Ron, Ken Scott, Paul Reed Smith, Stan's brother Ken, Stan - and his wife LeeAnne - simply click here or click on the graphic directly above.

Our sincere and heartfelt thanks goes out to David Robin for including "HAPPY THE MAN" in his amazing Progressive Rock Documentary "ProgFilm". We truly appreciate the tremendous amount of effort he and his crew expended on the project - and what a spectacular musical cast! It's hard to remember the last time so many amazing prog musicians were all in one film - possibly never. Certainly a who's who of most of our heroes and influences along the way. Sandwiched in between Bill Bruford and Gentle Giant? We'll take it any time. Unfortunately, we can no longer find it anywhere online - we suppose it was taken down for copyright violations. I would say, if you get a chance to see it, it's a worthwhile viewing for any devoted fan of progressive music.

Guess what I found? OK, time for the real deal - yes, the original "HAPPY THE MAN" segment from the television show which won an "Iris" award in 1977 for the best locally produced performing arts video. Yes, it was tucked away in my video archive collection, improperly titled, and apparently dubbed over to VHS format sometime previous to the other video - which was dubbed over with a version of a piece from "Death's Crown." The other video was fun, but it's nice to put the soundtrack with the film. Special thanks to mastering engineer, Michael Fossenkemper of Turtle Tone Studios - for doing what he could to bring the audio and video back to life. You can view the segment by clicking here or by clicking on the logo directly above.
With the passing of our friend, advisor and former stage technician, entertainment attorney Fred Brown - we decided to institute a Happy the Man "Hall of Fame." Please click here or click on the Hall Of Fame graphic directly above to see more.
if you want to take a look at the news from the Reunion Days, please click here or click the News Archive buttom directly above. Most of this originated from the official "HAPPY THE MAN" site.