HAPPY THE MAN - "THE MUSE AWAKENS"

The return of Happy the Man makes for a whole lot of happy the prog fans. Way back in 1977, this band signed with Arista Records and released two albums which bombed commercially - remember this was the age of Night Fever, Night Fe-v-er! But later they achieved underground cult status.
The Muse Awakens follows Happy The Man's Crafty Hands almost as if the quarter-century between them didn't even happen. The notable differences, obviously aside from all new compositions, are in the modern production, and in the fact that the drummer and keyboardist are different. Original drummer Ron Riddle, who to my ears had a flair for the dramatic - kind a prog Keith Moon - has been replaced with the more conventional Joe Bergamini Conventional, but extremely accurate and dynamic. As for keys man David Rosenthal who eagerly stepped into the shoes of Kit Watkins, he seems to wear them with joy and ease. Stanley Whitaker's guitar has, unsurprisingly, been stripped of the 70's flange effect (except for one track). Also clear is that, like every mature guitarist who had a hand wrapped around a neck in 1981, he has absorbed some of the Holdsworth influence. Standing-wave-in-a-tube specialist Frank Wyatt pulls out both saxes (tenor and alto) as well as a clarinet and a flute in the first 3 tracks, playing counterpoint to the guitar & synth like the old days. Co-founder Rick Kennel's bass remains in its supporting role - no Jonas or Billy, he. There is even a 'token' vocal track, as there was on Crafty Hands.
Happy The Man has been called 'America's greatest prog band' by some, based on their original recordings. Personally I reserve that title for Kansas. But I will say this: I can only think of one other band that routinely handles odd time signatures with so much fluidity, that they feel like 4/4. (...That would be Gentle Giant.) What I mean by that is, while there are many bands that seem to insert licks into odd time signatures as a means of showing off, Happy The Man writes tracks that emerge as a whole, integrated composition - rhythm, melody and harmony all woven together. As a matter of fact, 4/4 is almost totally absent here. That's neither good nor bad, it just shows uncommon creativity.
So there you have it - If you like this band's old material, you will like this release as it is the same style. For those of you who have never heard Happy The Man, though, think of the Ozric Tentacles without the goofy, spacey vibe, Chick Corea's jazz concept, with a dash of Brand X spice.
--Jeffrey E. Terwilliger - Dutch Progressive Rock Page
HAPPY THE MAN - "THE MUSE AWAKENS"
It is with great happiness that I report to you that the new Happy the Man disc marks a triumphant return for one of the best progressive rock bands ever to exist, a quarter-century after their demise.
Original members Stanley Whitaker (guitars), Frank Wyatt (saxophones, flute & keyboards) and Rick Kennell (bass) welcome into the fold David Rosenthal (keyboards, known for his work with Rainbow and as a sideman with the likes of Billy Joel and Cyndi Lauper, replacing the great Kit Watkins) and Joe Bergamini (drums & percussion, late of the progressive fusion band 4Front and the Rush tribute band Power Windows, replacing Ron Riddle) on The Muse Awakens, and the new lineup sounds remarkably like the original lineup.
Rosenthal is particularly impressive on this disc, writing three excellent pieces and soloing so authoritatively that it's almost as though he's channeling Watkins through his fingers, while Bergamini plays with exactly the blend of power and finesse by which the band's best material has always been driven, navigating tricky time signatures on the livelier numbers with ease and coloring the slower, more atmospheric tracks with subtle percussive accents. For their part, the original band members sound as though the twenty-six years that have passed since the release of the band's last studio album, Crafty Hands, never in fact passed at all: even Whitaker's voice is as pleasant and oddly boyish on "Shadowlites," the disc's only non-instrumental track, as it was back in the old days, and of course his guitar playing is as superb as ever (check out his solo on "Stepping Through Time," or his angular riffing on "Barking Spiders"); Wyatt is still a gifted composer - people forget that he composed a lot of the old HtM material - and multi-instrumentalist, and Kennell's bass playing is still as solid and supple as it always was. Those who worried that the chemistry of the new lineup would fail to match up with the magic of the original are happily proven wrong without a doubt.
The HtM sound is still characterized by strong compositions varying in mood and intensity, from the quirky interplay of rhythms and melodies of the album's opening track, "Contemporary Insanity," and the awe-inspiring "Stepping Through Time," to the lush, dreamlike atmospherics of the beautiful "Maui Sunset" (which features a lovely flute solo by Wyatt preceding an equally lovely guitar solo), and back to the progressive fusion of "Lunch at the Psychedelicatessen" (great title!) and so on throughout the entire disc. "Slipstream" treats us to still more brilliant keyboard work and a melody so achingly majestic that, contrary to its title, it anchors itself in your brain and lingers on after the track ends. The Dregs-meets-Dream Theater-like "Barking Spiders" follows, and is so complex, yet fun to hear, that Dream Theater fans will scramble to add it to their iTunes or WinAmp playlists; Bergamini really shines on this one, getting a great workout behind his drum kit. "Adrift," the next track, again provides contrast with its predecessor, a softer, slower Whitaker composition featuring Wyatt's saxophone and Rosenthal's synthesizers and piano. "Shadowlites," a song about the power of dreams, is reminiscent of Yes with its earnest, hopeful lyrics, passionate vocal and classical piano embellishments. "Kindred Spirits" is very reminiscent of an earlier HtM classic, "Starborne," and could very well be a sequel to that famously moody piece, with all its soaring synthesizers and piano. The album closes with the brilliant "Il Quinto Mare," which to these ears sounds almost like a tribute to the great Italian progressive rock bands of the 70s; it's a magnificent symphonic track with stunning keyboard and percussive work throughout, and a melody that fairly begs to be played by PFM's old violinist Mauro Pagani.
Fans old and new will find much to enjoy in Happy the Man's rich combination of engaging, sophisticated compositions and awesome chops, all presented with the sterling sound of modern studio technology. There's so much love and passion in every note on The Muse Awakens that it's difficult not to be moved, given the fact that it took over 25 years for this reunion to happen. It cannot be recommended highly enough. You can check out sound clips at the band's website or at the InsideOut web site or at Audiophile Imports.
--Progressive Ears
HAPPY THE MAN - "THE MUSE AWAKENS"
After Happy The Man's smashing show at the NEARfest 2000 the waiting for the proclaimed comeback-record The Muse Awakens began. This waiting is being rewarded now, because the 11 new tracks are full of the trademarks which typified the band so much: repetitive, slowly shifting patterns on divers instruments, lovely slurring Moog-solo's with that characteristic tone-bending and the long lasting string-chords. It's clear Happy The Man is going back to the intense progressive jazz-rock from Crafty Hands (1978), although the dreamlike spheres from the eponymous debut (1977) also gets a lot of space.
The opening-track Contemporary Insanity is revealing in that matter; complex rhythms, with bumping baritone-saxophone swipes and screeching guitar- and synthesizer-solo's. Lunch At The Psychedelicatessen, in which Frank Wyatt lets himself go in a lovely way on saxophones and other woodwinds, is also dominated by this kind of Gentle Giant-like riotousness. And Barking Spider is based on breaks in such a way, that the new drummer Joe Bergamini (from 4Front) can exhibit himself perfectly. The sphere-full side gets a chance in amongst others the title-track with Spyro Gyra-tinted, melodic clarinet-parts. Kindred Spirits is a beautiful piece, in which the echoing electric piano evokes exactly that kind of sphere which made The Moon, I Sing (from Crafty Hands) and the Twin Peaks-soundtrack so sensitive. But in these sensitive tracks there's also a lot of progression and dynamic-difference, like the bombastic burp in Adrift, which is mostly dominated by a sultry saxophone. In the epic tracks complexity and serenity flow together constantly.
For instance, Stepping Through Time combines a Camel-like flute in the intro with a splitting guitar-solo in the climax, which is being followed by a virtuoso keyboard-duel, one of the many passages in which David Rosenthal turns Kit Watkins into a very good memory effortlessly. This combination is also present in the closing couple Maui Sunset and Il Quinto Mare, which are being surrounded by see-sounds. They lead to the most sparkling part of the album, after which the band works musing (sic) and slowly toward the end in that typical Happy The Man-way. Finally, the vocal aspect in the key as the demo-LP 3rd : Better Late (recorded 1979, released 1983), comes to the front in Shadowlites only; in that track Stanley Whitaker's slightly distorted voice colors the refrain in an almost commercial way. In the press-information Whitaker tells that there are already three new vocal compositions. This means that The Muse Awakens is not only a very strong return to the top of the progressive rock-front, but also a start of many more beautiful things.
--Rene Yedema - I/O Pages
HAPPY THE MAN - "THE MUSE AWAKENS"
Happy the Man fans have been clamoring for this new CD since the band regrouped a few years back at the North East Art Rock Festival (NEARfest), and the wait is now over. Long-time members Stanley Whitaker (guitars & vocals), Frank Wyatt (sax, keyboards, & woodwinds) and Rick Kennell (bass) are joined here on The Muse Awakens by former Rainbow keyboard player David Rosenthal and drummer Joe Bergamini, and the results are simply astounding, as if the band never went away in the first place.
Things kick off in typical Happy the Man fashion with "Contemporary Insanity", a blistering yet quirky piece that will instantly remind you of the style of the bands debut and sophomore release Crafty Hands (both from the 1970's), as well as vintage Gentle Giant, with its complex and weaving sax, keyboards, and guitar interplay. The title track, as well as "Stepping Through Time", have more atmospheric and jazzier moments (reminding me a little of early Spyro Gyra) thanks to the classy keyboard work of Rosenthal and Wyatt's melodic reed stylings.
More intricate fusion with a Canterbury twist is evident on "Lunch at the Psychedelicatessen", a symphonic piece that sees Wyatt and Rosenthal once again complementing each other perfectly, until Whitaker joins the party with some wild finger picking that signals the whole band to move into complex prog-rock mode. The majestic "Slipstream" is a gorgeous piece that really shows what Rosenthal brings to the table, as he teams with Wyatt to create sumptuous soundscapes on piano and synths that help propel this song one of the most emotional instrumental prog tunes you will hear all year.
"Barking Spiders" is another beast altogether, as Stanley Whitaker unleashes some raunchy guitar riffs that are backed by some insane rhythm work from Kennell and Bergamini. Whitaker and Rosenthal get into some crazy exchanges here on this one! Wyatt's sax is featured on the smooth and jazzy "Adrift", while "Shadowlites" is a moody and atmospheric piece that also is the only track on the CD with vocals, courtesy of Whitaker. Stan's emotional and fluid guitar work tugs at your heart on the tender "Maui Sunset", a tune that also contains a tasty & melodic synth solo from Rosenthal. This song however is the calm before the storm, as they break out the big guns for the grand finale, the symphonic "Il Quinto Mare." At over 7-minutes in length, it is the longest piece on the album, and shifts through many changes of mood and tempo as only Happy the Man can muster. The band manages to squeeze classical, jazz, hard rock, and prog all into one tune here, and it really works, showcasing what a roster of talent lies in this ensemble.
The progressive rock world has just been put on notice...Happy the Man is back folks, and they are here to stay. The world is also a better place because of it!
--Pete Pardo for Sea of Tranquility

HAPPY THE MAN - "THE MUSE AWAKENS"

AT LONG LAST! The new studio album by America's legendary Happy the Man! Featuring three original members Frank Wyatt (saxes, keyboards, woodwinds), Rick Kennel (bass) and Stanley Whitaker (guitars and vocals) plus two newcomers - Dave Rosenthal (keyboards) and Joe Bergamini (drums). There are 11 tracks. Frank Wyatt wrote "Stepping Through Time", "Slipstream", and "Il Quinto Mare". Stanley Whitaker contributed "The Muse Awakens", "Lunch at the Psychedelicatessen", "Barking Spiders" , "Adrift", and "Shadowlites". The remaining three tracks are by new keyboardist Rosenthal. They are "Contemporary Insanity", "Maui Sunset" and "Kindred Spirits". For those who might say that Happy The Man just won't be Happy The Man without Kit Watkins (I was one of them) - let me assure you that David Rosenthal is more than up to the challenge. Not only is he an amazing player in his own right, he has SO closely copied both Watkins' compositional and distinctive playing styles that if I didn't know otherwise I would have sworn that it WAS Kit! New drummer Bergamini is also a good fit for the band and is an able replacement for departing Ron Riddle. The writing is great throughout and is purely & completely Happy The Man. It is as though they never left. It is as though it were 1979 and they were just continuing on as they should! A fantastic and highly recommended album!!
--ZNR Progressive Music
HAPPY THE MAN - "THE MUSE AWAKENS"
After a really really long break, and then after another long break, Happy The Man is finally back - and they're as fresh and as vibrant as they were at their formation in 1972.
Often compared favorably with classic-prog goliaths Gentle Giant, Happy The Man's music is complex and intricate yet it never loses sight of its strong melodic themes, and it is always either upbeat and pleasant or dreamy and reflective. Many of the songs on The Muse Awakens are pure symphonic prog a la Happy The Man of old, but others are more jazzy than before causing this record to comfortably span the intersection of classical arrangements, jazz chords and progressive music's symphonic melodies. Despite the jazzy overtones, every track is tight and composed and there isn't a hint of jamming. It is purely instrumental except for one song with relaxed mid-quality vocals - and besides the obvious guitar / bass / drums / keyboards lineup there are significant contributions from tenor and alto saxes, clarinet and flute.
The music shifts restlessly and constantly - from one time signature to the next, from key to key, from upbeat to contemplative to dramatic to spacey, and from the 1970s to the present day and all the way back again. It's hard to pick a standout track, but mini-epic "Il Quinto Mare" may be the best piece by a close margin, followed by the humorous and quirky "Barking Spiders" and "Lunch At The Psychedelicatessen". Several sax passages are reminiscent of the long, melodic Kenny G solos, but Kenny G never had the same complicated interplays between keyboards, guitars and this variety of wind instruments.
New keyboardist David Rosenthal (Ex-Berklee student, Rainbow, Billy Joel, and Cyndi Lauper, Whitesnake, Robert Palmer, and long-time Happy The Man fan) fits in wonderfully and his musicianship and compositional skills make an interesting impact. Listen to the piano and keyboard leads on "Slipstream", probably the most moving piece on the album, and his composition "Kindred Spirits".
The Muse Awakens was included in many critics' top-of-2004 lists - and that wasn't because the writers were among the HtM cultists or the welcome-back crowd. It won those laurels purely on its musical merits.
--By Duncan Glenday

HAPPY THE MAN - "HAPPY THE MAN"
This has to be one of the most amazing albums I've heard. Happy the Man's self titled debut contains all the elements that would come to define their sound: Kit Watkins' amazing yet subtle keyboard work, great compositional skills and intricate playing. The band, while complex, was never pretentious, as evidenced by such humorous titles as: "Stumpy Meets the Firecracker in Stencil Forest" and "Knee Bitten Nymphs in Limbo". The band is comprised of some truly virtuoso musicians who can play at breakneck speeds, and change tempo on a dime.
The music usually falls into three categories: ethereal symphonic pieces, playful fusion-ish workouts, and a combination of both. This album has a somewhat wider palette of sounds than its follow-up Crafty Hands, which seems a bit more subdued to me; a slightly more ominous overtone in some songs, as well as more aggressive guitar playing from Whitaker. The pieces thrive on the layered textures created by the group, especially Watkins' and Wyatt's various keyboards and woodwinds. Bassist Rick Kennel stands out in the mix more than on Crafty Hands, adding another element to the sound.
Every piece on the album is excellent, from the beautiful "Starborne" and "Hidden Moods" to the playful Canterbury-esque "Stumpy Meets the Firecracker in Stencil Forest". There are two vocal tracks here, "Upon the Rainbow" and "On Time as a Helix of Precious Laughs". I've heard complaints about Whitaker's vocals, but I find them to be competent at the least. "Carousel" is a great ominous track, with great keyboards and more aggressive guitar. The highlight of the album is the high energy "Knee Bitten Nymphs in Limbo", which has some amazing Mini-Moog work, along with a great horn sound from Wyatt. The dueling solos between Whitaker and Watkins are some of the best I've ever heard, feeding off each other to great heights. Exquisite.
There isn't much more I can say about this album but to pick it up as soon as you can if you don't already own it. The sound quality is excellent, recently remastered by Kit Watkins.
--Mike Prete
HAPPY THE MAN - "HAPPY THE MAN"
This was the first release of perhaps America's greatest symphonic act, and the best known behind Kansas, namely Happy the Man. This band took some cues from other similar bands of the time, but were essentially an entity unto themselves. They were predominantly instrumental, and tended to alternate between two kinds of pieces. "Starborne" is an example of their slower, reflective and beautiful pieces. On the other hand, "Stumpy Meets the Firecracker in Stencil Forest" is one of their faster pieces, an intricate display of odd time sigs featuring ripping guitar parts woven into the tight ensemble playing of the band. The band whips through whimsical, serious, reflective, aggressive moods with the greatest of ease. There are two vocals tracks here, but in general I find these somewhat less compelling. It is in the instrumental domain that Happy the Man truly shines, a fact that perhaps hurt their marketability back in the day. Had Arista not criminally underpromoted them, who knows how far Happy the Man might have gone? It's hard to say, but what is definite is that this a superior musical product that deserves all the accolades it has received.
--Sean McFee

A double-whammy underdog favorite: a) they were making credible, wholly undiluted prog rock at a time when pretty much no one else was left to, and b) they were Americans. Top-notch musicianship across the board combines with impeccable craftsmanship in the writing department. Several classics can be found here. These include Wyatt's ominous and kaleidoscopic "Carousel," Whitaker's "Knee Bitten Nymphs in Limbo," a whimsical rhythmic trip-up reminiscent of the finest Zappa, and the Canterbury flavor of "Stumpy Meets the Firecracker in Stencil Forest". Front and center is Kit Watkins, with keyboard sleight o' hand so diabolical it'll make you glad he never became a card dealer. This album, like their follow-up Crafty Hands, are as classic an example of legitimate American prog rock as you're gonna get. Sadly, like the proverbial tree falling in the woods, for recognition at the time of its release, this largely fell upon deaf ears. But what a redwood it was!

--Joe McGlinchey

I love these guys, period end of story. They create tremendous atmospheres, mostly instrumental music. This is keyboard based music with flashes of guitar, horns, and other instrumentation. The band appears to be able to handle everything from jazz/fusion, new age, progressive and anything else they might attempt. The material is so fresh, if released today it would still be relevant. I picked up this CD from Greg Walker at Syn-Phonic and was very surprised that it was available at all. The music on this disc covers a wide variety of styles. I think fans of Gentle Giant, Canterbury, King Crimson, and fusion would love these guys. This was originally released on Arista Records. My favorites here are "Starborne", "Mr. Mirror's Reflection on Dreams" and "Carousel". This is one band that I am sure a reunion would be very worthwhile, and not a retread, but offer great and interesting new music.
--Eric Porter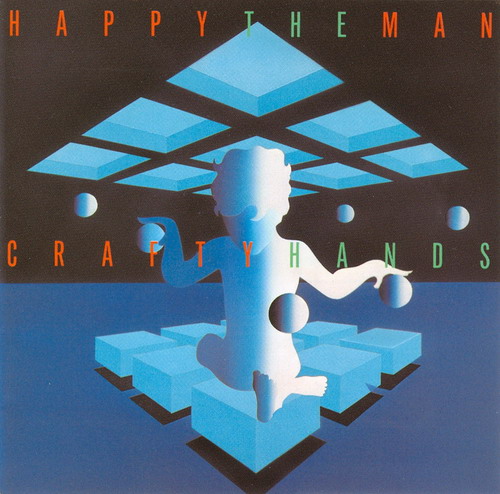 HAPPY THE MAN - "CRAFTY HANDS"
The second piece of perfection to be produced by Happy the Man before they broke up. Crafty Hands expands upon the instrumental prowess of the first album and contains only one vocal track. The compositions here are all top-notch; Watkins, Whitaker and Wyatt are fine songwriters, and their styles compliment each other greatly, with a mixture of serene, playful and epic pieces, usually all tied together seamlessly within one song. The playing is just as masterful, the band is able to create complex pieces that are never short of melody or emotion, and play off themselves beautifully. HTM could be considered the Spinal Tap of the prog world, having a different drummer for every release. Here Ron Riddle makes an excellent addition.
The songs follow the usual HTM pattern, beautiful symphonic pieces such as "Morning Sun", "Open Book" and "The Moon I Sing" are lush, mellow pieces that provide a wonderful contrast to the more upbeat pieces on the album. "Open Book" is a great example of how the band is able to play complex pieces in odd time signatures and pull it off without it sounding forced. This is a great medieval-tinged piece, with Wyatt's harpsichord and Watkins' recorder stealing the show.
As always, there are the the upbeat playful songs, tinged with fusion that make this band truly unique. "Steaming Pipes" and "I Forgot to Push It" are instantly recognizable with Wyatt's sax honking and great drum work from Riddle, not to mention the usually flawless playing of the rest of the band. It's usually Watkins that steals the show, with the best Mini-Moog playing I've ever heard throughout the album. "Ibby It Is" and "Wind Up Doll Day Wind" are two of the standout pieces of the album, combining the mellow symphonic and frenetic to epic proportions. "Wind Up..." is the only vocal piece on the album, with Wyatt's great poetic lyrics delivered competently by Whitaker.
Just as with the first album, I discover something new to love with this album after every listen. Not owning this album is inexcusable. Go pick it up, post-haste.
--Mike Prete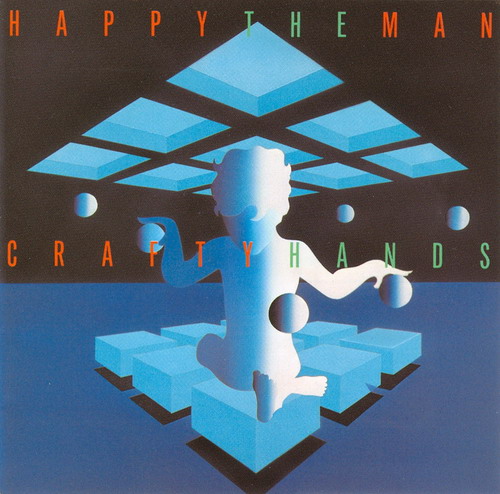 HAPPY THE MAN - "CRAFTY HANDS"
Ignoring the many posthumous archival releases, Crafty Hands was the second album by American prog group Happy the Man. This album stands as one of the stronger examples of combining compositional complexity with a melodic approachability. Certain songs, such as "Service with a Smile", or "Open Book", are written almost entirely in odd meters and yet lack that sense of awkwardness one often gets from such sections. The mood of the pieces tends to be fairly upbeat or reflective, with a general feeling of serenity ("Morning Sun") or optimism ("Open Book"). A careless listener may mistake the lightness of the sound for a lack of depth, but this would definitely be a mistake. Most Happy the Man would point to the vocal numbers as the general weak area, and I would have to agree. Like 70s Camel, they are a band that is most effective in the instrumental domain.
Comparisons with other bands are not obvious. This is definitely a release that is well-rooted in the symphonic genre, but it does not derive substantially from any of the accepted prog canon. It seems to be almost unique among 70s American prog-related material in that it is neither derivative of an existing band or riddled with AOR-ish cliches. I can thus recommend it as an exemplary example of American progressive rock.
--Sean McFee

Crafty Hands is the second album Happy the Man made before being dropped by Arista Records and eventually disbanding the following year. The band shows that the superbly executed musicianship and thoughful writing displayed on their debut album were not a fluke. Their jazz-tinged sound remains light but powerful, with breakneck precision. Of course, Kit Watkins can't help but attract the spotlight, flying over the keys with unassailable grace, and his "Morning Sun" is a truly heart-wrenching composition. But one must also give nods to the other band members, particularly the other main writers Stanley Whitaker and Frank Wyatt. If you have not yet heard Happy the Man and are curious about the hype (as I was) regarding the recent reissue of their first two albums: the hype is well-deserved. If you have heard these albums when they came out and love Happy the Man: go forth to thy CD shop and salivate no more. In either case, the verdict remains the same: buy these two reissues pronto!

--Joe McGlinchey

Call me a "fanboy" if you will, but this is in my all-time top 10. "Service With A Smile" may be the most perfect 2:45 of song I have ever heard. These guys can go for the jugular and then float like a butterfly at the drop of a hat. Gorgeous melodies are wrapped in some of the most finely crafted songwriting you will ever hear. Talent to spare, my friends. This is their second and final release for Arista Records, which was a shame, though they did go on to produce a few independent releases. The guitar / keyboard interplay is wonderful, as Watkins flies over the keys with ease. Whitaker at times seems like he is in the background, but listen closely as he follows Watkins note for note. "Wind Up Doll Day Wind" is the only track featuring vocals, and though Whitaker handles them fine, the instrumental stuff is what they do best. Watkins' keyboards also create a lush canvas to some of the more atmospheric tracks as the band adds horns, flutes, recorders and other instrumentation to paint pictures with the music. A track like "Morning Sun" may be mistaken as "New Agey", but there is no fluff here, folks. Anyway, if you want a band that runs the gamut and gives you everything you could ask for (in my opinion), get this classic release of American progressive at its finest. One Way Records has just released remastered versions of this and their debut (titled Happy the Man), so you have no excuses!
--Eric Porter

HAPPY THE MAN - "3RD BETTER LATE..."
From the liner notes: "This is the final demo tape made by Happy the Man. It was recorded in February, 1979 at the band house in Reston, Virginia, using a Teac 3340 4-track recorder. Basic tracks were recorded live by all members. Flute, sax, vocals, and some solos were overdubbed. Final mixes were made on a Revox A-77 half-track at 1 1/2 ips. Tape hiss and minor amounts of distortion were inevitable with the equipment available at the time."
This is a posthumous release from Happy the Man. Comprised of the demos for what would have been their third album, 3rd Better Late... stands as a document of the band during their last year together. As can be expected with a demo, the sound quality is not up to par with the previous albums, but the majority of the songs were remixed by Kit Watkins in 1989.
The songs here showcase the mellow, symphonic side of the band much more than on previous releases. There is also an "easy listening" vibe present in some places that tends to leave a bad taste in my mouth. There is a much larger vocal presence here, with singing on four tracks. The first six songs (with the exception of "While Chrome Yellow Shine") tend to drag along in search of ideas, and fail to reach out and grab you. "Eye of the Storm" is a very beautiful song, but doesn't have the emotion of say "Morning Sun" from Crafty Hands. The album starts to kick into gear with "Run into the Ground" which is a return to form of the more fast paced and high energy songs. "Labyrinth" is the most successful fusion of the two ideas of mellow and upbeat into one track.
This album should obviously be judged on its demo nature. By the time these songs would have seen their way to a record, there would inevitably have been changes. For those of you who enjoy the first two albums and need more HTM, this is the next logical step. Just don't expect a classic.
--Mike Prete

HAPPY THE MAN - "3RD BETTER LATE..."
Happy the Man was one of those band names floating around that I was vaguely aware of but not sure exactly who they were or what they did. I knew they were considered by some to be the premiere American prog band of the 70s, but that was about it. So, I kept my eyes open and happened upon the chance to pick up this album used. I'm glad I did, even though it wasn't quite what I expected. What I expected was a band sort of along the lines of Yes or Genesis that was fusing Euro prog with American styles. Actually, if this disc is any indication, Happy the Man seems much closer to Canterbury and fusion than to traditional mainstream prog. That, of course, is not a bad thing. The music here has a lot of potential and has some wonderful playing on it.
As I understand it, Happy the Man basically existed originally to produce two or three albums before breaking up (not for good, however). The material contained on this disc, then, is what was going to be the next album for the band. An album that was never finished and never released. For that reason, there's a certain roughness to what's going on here. These cuts are not completely raw or merely beginnings, but they do seem like the band knew they'd be developing them more later. While that makes the album and interesting listen, I'm not sure that is makes for an incredibly satisfying one.
As I said, Happy the Man was one of those bands I didn't know a lot about. Now that I know a little more, I'm intrigued to see what the band could do when they put their minds to it. So while I'm not sure how much time this particular disc will spend in the player, it has convinced me to explore further. And that's a very positive thing.
--Jon Byrne

The music on this posthumously released CD was to comprise the third Happy the Man studio album in the 70s, but the band was dropped by Arista Records and the project never saw completion. The sound quality is actually much better than I was expecting, and though the tracks do have a rawness to them, the actual pieces are still quite developed. With the band's muscianship as unfailing as ever, the instrumentals alone are reason enough to get this album, with "While Chrome Yellow Shine," "Run Into the Ground," and "Footwork" being particular standouts. The songs with lyrics are less consistent. Efforts such as "Who's in Charge Here?" are not that memorable, and perhaps demonstrate the band's attempt to break out into a more commercial direction. I personally like "The Falcon," though I could understand if others might gawk. Recalling some of Genesis' old song structures (e.g., "Get 'Em Out By Friday" or "All in a Mouse's Night"), its story is told through use of multiple narrators and thematic shifts in the music that hold together nicely by song's end. The ebb and surge of Watkins and Wyatt's keyboards combine with Whitaker's slide guitar to memorable effect. I first played this song early one morning while vacationing in a hideaway perched above Cannon Beach, Oregon, while waiting for my group of friends to wake up. Surrounded by the tall pines, mountains, and a pair of Stellar's jaybirds curious of their new guests, I can't think of a better context to have first heard the song and absorb its words, so maybe that's why I like it. To summarize, while definitely not as polished as their first two albums, 3rd: Better Late is still an album worth purchasing, and of course a must-have for any Happy the Man follower.
--Joe McGlinchey

Another triumph! After the band was dropped by Arista, these appear to be demo tapes for a third release. Again, the band offers up some tasty prog, chock full of great instrumentals along with some vocal tracks. "Eye of the Storm" is a Kit Watkins tune that Camel also recorded during his tenure with that band (on I Can See Your House From Here). Both versions are very similiar. "The Falcon" is a great heavy ominous piece that features an evil sounding slide guitar solo from Stanley Whitaker, who also takes on vocal duties and does an admirable job. Some other favorites here are "While Crome Yellow Light Shine" with its bright horn sounds and driving rhythm; this one also features some stinging work from Whitaker. The fusion feel of "Run into the Ground" and the jazzy "Footwork" make this a well rounded release. Also, the drumming of Coco Roussel is outstanding. He is not just a drummer, but a fine percussionist. This CD contains the final recordings of the band, and shows that they were still full of creativity.

--Eric Porter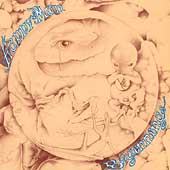 HAPPY THE MAN - "BEGINNINGS"
First off, it must be said that these tracks are basically demos, with sound quality to match. Considering what they used to record this material though, this is still a very listen able affair which gives a glimpse to the start of what would become America's greatest progressive band. The core of the band that would go on to produce the classic Happy the Man and Crafty Hands albums is intact here and it shows. The songs are well crafted and played well, but lack the same punch they would later, which is to be expected considering these are the first recordings the band made. There is a much lager reliance on vocals here, which are handled well by Cliff Fortney.
The music is much sparser and laid back, with a lot of atmospheric keyboard work. There are a lot of nice extra percussive elements, such as chimes, used to compliment the quieter pieces. The band does let loose in places, the last few minuets of "Gretchen's Garden" is one of the more successful cases. "Partly the State" is the strongest song overall, with nice shifts in dynamics, interesting vocal work and percussion.
Taken for what it is, this is a nice collection of songs that shows the roots of a sound that would be perfected on later releases. This is an interesting addition for fans of the band's other albums, but if you don't have them, there's no need for this one, yet.
--Mike Prete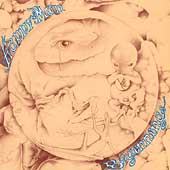 HAPPY THE MAN - "BEGINNINGS"
The history of this legendary US group started in 1972, when guitarist Stanley Whitaker and bassist Rick Kennell met in Germany and shared the same admiration for British Progressive Rock. Whitaker was back in USA by the next year and Kennell, who remained in German grounds for a while, introduced him two of his former bandmates, drummer Mike Beck and singer/flautist Cliff Fortney.The original keyboardists were David Bach and Frank Wyatt, the first was soon to be replaced by Kit Watkins.So Happy The Man were born and in 1974 Kennell was back to USA as well with the band starting full rehearsals. Material from this early 1974-1975 period was released in 1990 under the title ''Beginnings'' by Cuneiform.

The love of HAPPY THE MAN for early British Prog is apparent in every track and actually Whitaker and Kennell were both great fans of KING CRIMSON, GENESIS and VAN DER GRAAF GENERATOR.Noy surprisingly at all these are the main influences dominating the band's early sound with original singer Cliff Fortney sounding a lot like PETER HAMMILL and, to lesser extent, like PETER GABRIEL.The tracks are quite long with plenty of space for nice psychedelic instrumentals, elaborate symphonic arrangements along with a light jazzy breeze. Happy The Man's early sound lacks any kind of full-blown musicianship and the band was focusing on creating dreamy and atmospheric soundscapes, both in vocal and instrumental parts, with nice use of organ, sax and electric piano in the vein of VAN DER GRAAF GENERATOR along with floating synth parts, delicate flute passages and melodic guitar solos in the vein of GENESIS.But a ton of a talent could not been that easily hidden, so there are also plenty of moments, where the sound becomes truly rich with some cool complex themes, highlighted by a VAN DER GRAAF GENERATOR/KING CRIMSON-ian atmosphere with bombastic sax and organ interplays next to demanding keyboard flights and more adventurous guitar hooks.The result was a band with numerous interesting ideas but far from creating their unique personality.
It can get more Classic Prog-styled than this.Of course it is not HAPPY THE MAN's greatest release or, even more, very far from original, but is it a beautiful archival release with a full hour of previously unreleased material of the band's early days and fans of Classic Prog in the vein of the aforementioned legends should track this down. Warmly recommended.
--Psarros
HAPPY THE MAN - "DEATH'S CROWN"
Death's Crown is an archival release originally recorded by the band in 1974. The piece was the musical part of a multimedia event comprised of dancers, actors, a light show, and slides. This recording was made in the band's rehearsal room. In comparison to the songs on Beginnings, which were recorded around the same time, Death's Crown is a much more mature and experimental. Like Beginnings, this release also leaves much to be desired where sound quality is concerned, but is to be expected due to the nature of the tapes. For the most part, the instrumental parts are very clean sounding. It's the vocals that get lost and distorted, making them hard to decipher and listen to.
"Death's Crown" is a 38-minute suite made up of eleven parts that flow together nicely. The music here is very similar to what would be the band's classic sound from their first two albums, well composed and arranged, with plenty of great melodies. Like their other work, the evocative instrumental sound easily carries the music through the story. I find it amazing that such a great piece was written during the band's first year together. "Part 5" will be familiar to those you who have heard their later albums, as it re-appears as "Open Book" on Crafty Hands. The two bonus tracks feature an early recording of "New York Dreams Suite" with vocal overdubs from Owen and some differing parts from the final version which would appear on their debut album. "Merlin of the High Places" is a beautiful piece in the typical HTM vein.
Despite its raw sound, Death's Crown is a wonderful document from this great band. It has been such a treat for HTM fans that Cuneiform has released all this archive material as a companion to the two major albums. For those of you who enjoy the first two Arista albums, this one should not disappoint.
--Mike Prete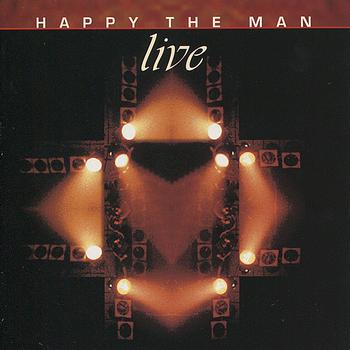 HAPPY THE MAN - "LIVE"
Although this live set would have been much more meaningful had it been released closer to when it was recorded in 1978, it stands today as evidence that this DC area quintet was as tight on-stage as their studio recordings might lead one to believe: the performance here is gripping, spirited and cohesive, drawing on material from their two Arista albums. Happy the Man's music could be described as a keyboard oriented synthesis of rock styles with a jazz sensibility leaning in the Canterbury direction, mostly instrumental (all instrumental on this set), with a penchant for the complex, highly melodic, occasionally quirky and musically humorous. With two keyboardists (Kit Watkins and Frank Wyatt, doubling on flute and Saxes respectively), they were capable of a rich sound full of dramatics and emotion, tension and release. In short, light-years ahead of their time.
The material here is taken from two performances: Most were recorded at the Cellar Door, Washington DC, with the balance taken from a show at Louie's Rock City in Falls Church, Virginia - although exact dates are not given. The recording quality is quite good, I think most would be surprised, especially given the wide dynamic range and overall low noise. Opening with "Service With A Smile", here the track gets added punch from guitarist Stanley Whitaker, they move on to "Starborne" and ten more tunes, some with an almost identical arrangement to their studio counterparts ("Morning Sun", "Hidden Moods") and some that are significantly different ("Knee Bitten Nymphs..." is given a whole new feel by drummer Coco Roussel, "I Carve The Chariot On The Carousel" is the full piece which was brutally edited in order to fit on the first album). Two outstanding tunes that missed the Retrospective CD are here in glorified live versions: "Ibby It Is" and the ten-minute "Mr. Mirror's Reflection On Dreams". But by far, the standout here is the brilliant "Open Book", where all of the band's strongest instincts come together to assert their unique vision. Rarely can I say that a live album is as good an introduction to a band's music as their original studio recordings, but here it can be said without any uncertainty; For the longtime fan, this one's a must-have.
--Peter Thelen