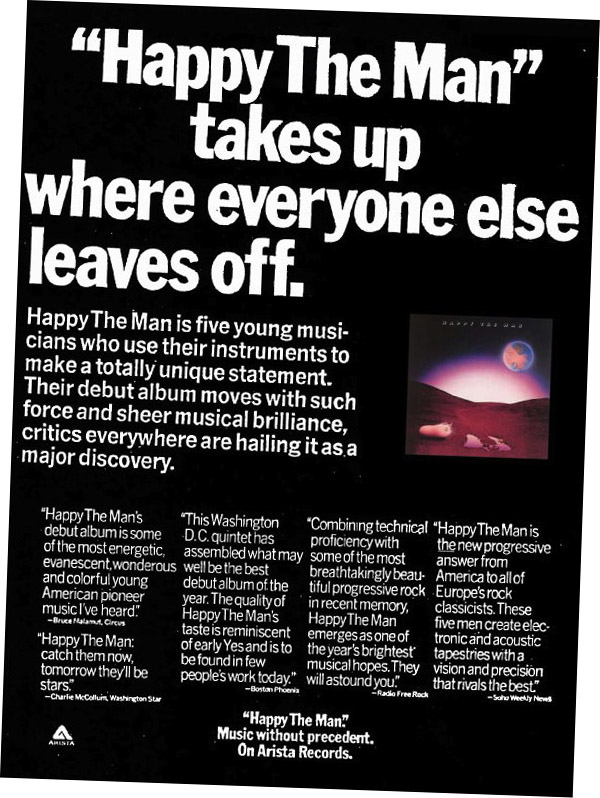 "It was the total thing. I go on gut instinct, and something in my gut just said - they're good - it would work well in the studio - and it did. It was very un-American, which I loved. Some of it was movie score-like which I enjoyed. I loved the strange time signatures; I worked with Mahavishnu Orchestra by this time, so I was into weird time signatures, which they had plenty of. It just grabbed me. I really loved their music. They worked well together."
--Producer Ken Scott
"I saw Happy The Man, and I was blown away by them. They were in the catbird seat—the best of that style band that anybody had ever seen before. There were a bunch of brilliant people in the same band, and they were on the cutting edge of something brand new. They were the deal. Listen to "Steaming Pipes" and tell me it's not brilliant."
--Paul Reed Smith
"The record is a five-man deep miracle in an era where shallowness is the calling card - and you should buy it tonight before you sleep.
--Enquirer and Ledger, Columbus, Georgia
"Were talent, musical vision and experimentation the most important criteria, Happy the Man would be a household word like Sara Lee."
--The Washington Post
"Happy the Man is the best contemporary electric group in America, period."
--The San Diego Reader
"Witness Happy the Man's masterful use of dynamics, tonal colors, and counterpoint; their ability to execute finger-breaking time signatures with deft ease; the lattice-like melodies and ingenious thematic variations that surge and recede with unusual grace and power; and the fact that no matter how complex or demanding their music became, the band always sounded uncluttered and in total control."
--George Varga, San Diego Reader (from "Retrospective" liner notes)
"Happy's sweeping and lushly arranged orchestrations are clearly innovative, if not hypnotic."
--Billboard
"A five-piece American band, they fuse electronics, space rock and free jazz to come up with a very intriguing album."
--Melody Maker
"The delightful style that they have been developing from the fusion of their backgrounds, added with their innate talent produced the music that will become a landmark in American progressive rock."
--Walrus
"They had a rich sound, as full and accomplished as that of any headling progressive band in the world."
--The Unicorn Times
"Few groups are as consistently daring, or as skilled as this one, and fewer still seem willing or able to produce music of such unrelenting power and beauty.
--Overseas Life
"They lack the one great flaw their predecessors flaunt - pretension - and they know the mission of music - joy!"
--The Solo Weekly News, Columbia University
"This is a near perfect record...the compositions and musical virtuosity rival anything in progressive rock or jazz today."
--Herald, Rolling Meadows, Illinois
"The musicians themselves constitute a rare blend of consistently startling virtuosity and, perhaps more important - taste."
--The Breeze, James Madison University
"Happy the Man was able to transcend the simple need for theatrics. What I received instead was a full musical meal which offered me an array of delicate and exotic samplers to taste and savor."
--Fairleigh Dickenson, Teaneck, New Jersey