HAPPY THE MAN
--Todd Brendan Fahey

Happy the Man's story is of salvation, of chances dashed, of greedy corporate music executives' promises and a Listening Public who wouldn't know the sound of God's Own orchestra if it came to bugle them in their sleep. On a night when you feel like committing suicide, please remember this story, and then don't. Put on Crafty Hands instead, and lie back - it'll pass, whatever It is.

I discovered a fantastic sound one evening (1983) probably in a stoned or drunken slumber, beachside Santa Barbara, when some long-haired Pirate Radio meister cued up seventy uninterrupted minutes of the music of Happy the Man: an indelible memory in my skull. I recall leaping out of bed and phoned KTYD's listener line, because I had to know.
"Yeah, pretty good, aren't they. Too bad nobody bought their records. They broke up about four years ago. From Washington D.C./Virginia area. Peter Gabriel once called them, 'my favorite band,'" he said--and I had every good reason to believe him.
In 1972 a few college pals and a recently discharged Army grunt had been bitten by an unlikely Muse. Five Americans alternately trained or enamored of classical music, jazz and British progressive rock: Genesis, Gentle Giant and Van der Graf Generator. Doomed to failure, obviously; but for seven years, the quintet kept plugging. Drummers came and went, but the core sound remained Pure. When it was over, a song was etched upon the American landscape. We've heard nothing like it before or since.
Kit Watkins, Rick Kennell, Stan Whitaker, Frank Wyatt (and drummers Mike Beck, Ron Riddle, and Coco Roussel) honed their chops by night, by day, laboring as hospital orderlies, construction workers, whatever paid the bills. By 1974, Happy the Man were the toast of the Eastern Seaboard, garnering near-orgasmic reviews in the Washington Post and regional throwaways.
Nightly, packed clubs were blown away, first by note-perfect covers of Genesis's "Watcher of the Skies" and King Crimson's eponymous "In the Court of the Crimson King," and later by original works - symphonic skywriting - titles as unlikely as the band's future: "Mister Mirror's Reflections on Dreams," "Stumpy Meets the Firecracker in Stencil Forest," "While Crome Yellow Shine" (from Aldous Huxley's novel Crome Yellow: tells you where their heads were at).
But what was once sweet turned bittersweet, then just got old: playing like ascendant Lords and living like hobos, never breaking out of the college campus and regional festival circuit. Kit Watkins was lured away by Camel, which turned out to be a mirage. Ron Riddle toured and recorded with Blue Oyster Cult, then onto NBC session work. In a bitter reflection, guitarist Stan Whitaker was asked by and turned down Peter Gabriel's third solo album and subsequent tour. The rest languished. What might have been?
I'm listening right now on continuous repeat to "Service With a Smile" from the Crafty Hands CD: which was an LP, then was nothing. All of Happy the Man's output having gone out of print--evil shame, with $250,000 invested by Arista Records and timeless production value courtesy Ken Scott (David Bowie). A long-delayed third LP followed. Twenty years later, HTM decided "What the hell?" and remastered the original analogs on a shoestring, in a Virginia home-studio. Eno, you got nothing on these guys . . . and there falls a little tear down my cheek.
I recall my first acid trip: seated as a child-Buddha with this song as my Initiatory: the most indelible 2:37 I have ever heard. Bone-crunching rhythm section, a Moog that would shame Keith Emerson, guitar like a lightning bolt in your third eye. Shot right through to the Soul.
Happy the Man has reformed (the original Crafty Hands line-up), with Kit Watkins' blessings (stage-shy now, a studio-only guy). NearFest prog-rock gathering (June 2000) reviews are, again, like a wet dream. A new CD be underway. A rare, fine wine, you can't rush it.
Don't ever give up.
HAPPY THE MAN
--George Graham

Most rock fans have their favorite "obscure but memorable" bands, groups that released one or two outstanding albums, and then broke up or otherwise departed from the scene before enjoying any significant commercial success. Most of the time, those bands are gone forever, due to the changing life circumstances of the various members, leaving only their recordings in their wake. With rock nostalgia in vogue and the incessant repetition of old so-called "classic rock" on commercial radio, a number of former bands -- usually the commercially successful ones -- have reunited with varying artistic results, with some showing how wise it was to have broken up in the first place.
Once in a while one of those obscure but memorable groups will have a go at getting back together. There's usually a lot less commercial pressure to come up with something to keep the geezer-rock crowd happy and buying, and the results can be worthwhile.
One of my all-time favorite "obscure but memorable" bands was Happy the Man, an art rock band from the Washington, DC, area which existed in the mid to late 1970s. Now I have been a fan of art rock or progressive rock since the early days of the Nice, and the Moody Blues first orchestral forays, into the period that gave us Yes, Emerson Lake & Palmer, and Genesis. All the big-name art tock bands were British, but my pick for the best of the genre was all-American Happy the Man, from the nation's capital, no less.
Some would make fun of the pretense of rock trying to achieve symphonic scale, with elaborate compositions and sophisticated arrangements, borrowing as they sometimes did from classical music. And by the mid 1970s, some of those bands did achieve a level of bombast, with apparent competitions for who would require the greatest number of semi-trucks to carry their huge stage setups. They were perhaps one reason for the appearance of the punks, who were determined to cast that all aside.
But Happy the Man concentrated on the music, shunned the pretense, and were mostly an instrumental group, specializing in compositions that combined complexity with a melodic sense. After forming over a period of time with changing personnel in the early to mid 1970s, they gradually achieved recognition, eventually being signed to Arista Records by none other than pop music maven Clive Davis, and being produced by Ken Scott, whose credits ran from the Mahavishnu Orchestra to David Bowie. They released only two formal albums as a band, but those recordings have been held in virtual reverence by most of the art rock fans who had an opportunity to hear them. Of course, a sophisticated band who played mostly instrumental music was doomed on a major label and the commercial media, especially in the period when punk and new wave were emerging. So after recording some demos for a third album, Happy the Man broke up in 1979, with the various members pursuing other interests, including carpentry, in the case of one of the members. Keyboard man Kit Watkins toured with the British band Camel for a while, and one of the early drummers played in a group that would eventually become The Cars.
Watkins remained active making his own music, and eventually releasing the band's final demo recording as an LP called Better Late. Over the years, there were attempts at reuniting Happy the Man, whose following remained devoted. But with their members were scattered in California, on the East Coast and in Hawaii, that was difficult. Eventually, all the members came to live on the East Coast, and in 2000, a reunion performance, minus Kit Watkins, was held in Bethlehem, PA, at the Northeast Art Rock festival. I had an opportunity to see that show, and the band proved to be in top form, after more than two decades apart.
Now, more than four years after that reunion, Happy the Man have finally released a new recording. It's called, perhaps appropriately The Muse Awakens, and for long-time Happy the Man fans, it's worth the wait, and with art rock continuing to chug along as a kind of cult phenomenon, finding newer, younger audiences, the band could find a new generation of fans for their very classy music.
This incarnation of Happy the Man includes three of five members who appeared on their 1970s albums, Frank Wyatt on sax and keyboards, Stanley Whitaker on guitar and the rare vocals, and bassist Rick Kennell, who was a founder of the group. Their lead keyboard man is David Rosenthal, who played with the group in their 2000 reunion performance. Rosenthal joined when Kit Watkins declined to go on the road touring. The drummer for this CD is Joe Bergamini, who continues the tradition of having a different drummer on every Happy the Man recording.
For those who remember the now classic HTM LPs, the band takes up almost exactly where it left off. The music continues with its multi-layered sound, with lots of interesting twists and complex rhythms, but with ethereal interludes. The band doesn't go for exhibitionist musicianship, but concentrates on the orchestration and ensemble playing, with the focus being on the compositions. David Rosenthal is a worthy replacement for Kit Watkins. He obviously has studied Watkins work, in the manner of his playing, keyboard sounds, and even composing. And the material is a nice cross section of the band's multi-faceted style.
If there is any artistic weakness, it is that the band has not moved much beyond where they were in 1979. Many of the familiar elements are there. In fact, the band's fans can probably pick specific pieces from their previous albums that inspired music on the new CD. Not that it's much of a reason to complain, given the wealth of great ideas that were contained in their previous releases.
The CD opens with a composition by keyboard man Rosenthal, called Contemporary Insanity. It's in the classic Happy the Man frantic mode, with angular, convoluted rhythms but with an almost playful quality. The mellow side of Happy the Man is reflected in several pieces, though if a track starts out in the atmospheric mode, it doesn't always stay that way. The title track, The Muse Awakens, by Frank Whitaker, almost hints at so-called "smooth jazz" at its beginning <<>> before the band gives it one of their typical twists of mood.
Also showing the band's ethereal qualities is Kindred Spirits, in which composer David Rosenthal channels his Kit Watkins influence for this attractive piece in shifting meters. It is definitely one of the CD's highlights. For me, on the early Happy the Man albums, the more atmospheric pieces were the band's strongest suit. One the new CD, it seems that more of the edgy material stands out. Stanley Whitaker's piece Lunch at the Psychedelicatessen, is a good example with its more energetic approach and the interesting changes of direction.
The one vocal track on The Muse Awakens is called Shadowlites. Like previous Happy the Man material, the lyrics are hardly the band's strongest facet, but Whitaker have improved as a vocalist over the years. Musically, it's another interesting and engaging piece. Also on the band's cranked-up side is Barking Spiders which has echoes of past HTM pieces like Steaming Pipes. The band also maintains its lighthearted sense of fun.
The one track on which the band departs some from their earlier music, is called Adrift by Whitaker. For me, they get a little too close to "smooth jazz" for comfort. For an art rock band, Happy the Man on this new CD has few long tracks, something that was a feature of their early albums. The longest piece at seven and a half minutes is the closing selection Il Quinto Mare by Frank Wyatt. It also borrows from earlier HTM tunes, but the result is quite satisfying.
It has been more than a quarter century since the last actual new Happy the Man recording was made. One of the most brilliant progressive rock bands of its day is in fine form in this reincarnation. Their music is elaborate, multi-faceted, sometimes quirky, but always approachable and frequently very attractive. Parts of it could appeal to those who enjoy new age, while other parts could find an audience among jam band fans. Their musicianship is first rate, and their compositions have lost nothing in the intervening 25 years. However, it must be said that they have not gained much in the period, either. Their new CD relies mostly on the band's trademark stylistic touches, as creative as they are. Some tracks on The Muse Awakens sound like composites of ingredients taken from their 1970s albums. There's nothing wrong with continuing one's style, especially when there's so much to it. It will likely bring joy to the band's long time fans, waiting since the Carter Administration for a new recording, and perhaps introduce a new generation of art rock fans to this fine band.
Our grade for sound quality is an "A." The CD is well recorded and mixed throughout. There's a nice balance between clarity and an atmospherics, and the dynamic range is decent.
It's not often that a band that developed such a reputation after only two official albums should reunite after 25 years. Happy are the fans of Happy the Man. They have brought their distinctive and memorable sound back to life, and they treat it with great authenticity. Let's hope that they can continue their association and perhaps next time, start blazing some new musical trails.
(c) Copyright 2005 George D. Graham. All rights reserved, used by permission. This review may not be copied to another website without written permission.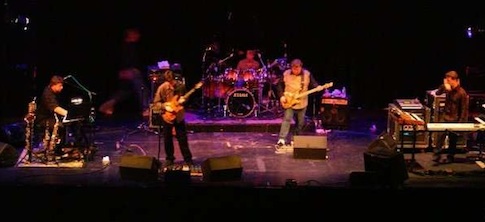 HAPPY THE MAN AND FROGG CAFE AT NEW JERSEY PROGHOUSE
--Pete Pardo for Sea of Tranquility
Jim Robinson assembled a stellar prog line-up at the NJ Proghouse, better know as the Forum Theater in Metuchen, NJ, on November 13, 2004. Featuring rising stars Frogg Café from Long Island, as well as legendary act Happy the Man, this was a night of wonderful progressive rock and fusion, from two of the genre's finest. Sea of Tranquility Publisher Pete Pardo and Webmaster Greg Stewart joined the few hundred strong for a few hours of scintillating prog rock.
Read on for the complete review!
This particular night happened to be a surprisingly below average evening temperature wise ,and the prog faithful gathering around the Forum Theater gladly piled into the venue once the doors opened around 7 PM. For those not familiar with the Forum Theater, it's a relatively old, small, yet cozy theater, probably capable of holding anywhere from 300-400 people when packed to capacity. While there weren't quite that many fans in attendance this night, I'd day there were easily in the 250 to 300 range, and everyone was in a festive mood (including our good friends over at InsideOut Records, who were in attendance working hard on their documentary). I mean, how often do you get to see 70's pioneers Happy the Man, as well as a stellar opening act like Frogg Café, who are quickly making a name for themselves as a force to be reckoned with.
Frogg Café, recently announced as one of the bands to perform at NEARfest 2005, and hot off some shows in Europe and Canada, made their way to the stage with a slightly different line-up from when I had seen them last. New guitarist Steven Uh has replaced longtime member Frank Camiola, and the band also had a guest horn player on stage for a few numbers, which added a great new element to their mix of fusion and prog sounds. In fact, the trombone worked quite nicely with Nick Lieto's trumpet, especially on the new songs from the soon to be released CD Fortunate Observer of Time on ProgRock Records, of which the band performed three if my memory serves me correctly. The new tunes seemed to impress the crowd quite a bit, so I think we are in store for a gem from Frogg Café in 2005. These songs had a very symphonic sound to them, complex yet melodic, mixing elements of Gentle Giant as well as Frank Zappa's Grand Wazoo period. The band also performed the title track from their 2003 release Creatures , as well as an oldie but goodie from their 2001 debut, called "Space Dust." Bassist Andrew Sussman and drummer James Guarnieri are a killer rhythm section, with Sussman's slippery and gymnastic grooves playing off Guarnieri's rock solid foundation quite well. Bill Ayasse amazed as always with his beautiful, yet at times searing violin work, which worked well against his across the stage rival Uh who added a nice jazz-fusion element with his liquid guitar tone. While most of the material is instrumental, keyboardist Lieto added his melodic vocals on a few cuts, and in between performed some stellar keyboard textures and jazzy trumpet solos.

For the folks who had not heard much of Frogg Café prior to this performance, it seemed like they were converted to fans. The band was tight, melodic, and seemed to be having a great time on stage. They go from symphonic prog rock to fiery, complex fusion effortlessly, and if this performance is any indication, the NEARfest audience is in for a real treat next July.
What more can be said about Happy the Man that hasn't already been stated many times. These guys are class personified, plain and simple. The bands 70's material hinted at some of the Canterbury fusion, yet was highly melodic and symphonic, and most definitely American. Veterans Stanley Whitaker, Frank Wyatt, and Rick Kennell are still manning the mantle, while newcomers David Rosenthal on keyboards and Joe Bergamini on drums round out the current line-up.
Let's make on thing perfectly clear, Rosenthal and Bergamini and both monster players, and fit this band extremely well. Rosenthal is able to handle all the Kit Watkins passages on the older material with ease, and his highly textural work on the newer songs in simply gorgeous and full of life. The band played a majority of the new album The Muse Awakens, including some of the mellower and more melodic cuts like "Il Quinto Mare", "Maui Sunset", and "Lunch at the Psychedelicatessen", as well as the complex scorchers "Contemporary Insanity" and "Barking Spiders." These songs fit in well against such classics as "Stumpy Meets the Firecracker in Stencil Forest" (featuring insane workouts between Whitaker's guitar, Wyatt's sax, and Rosenthal's keys), "Ibby It Is", "Knee Bitten Nymphs in Limbo", and "Service With a Smile." This is a band that, despite being apart for over 20 years, are completely locked in and comfortable with themselves. They hold a certain presence on stage that few bands can muster, and each one is a virtuoso musician, yet their music is by no means all about chops. The crowd was loving every minute of their near 2-hour set, and probably would have stayed for another 30 minutes had the band kept playing. One surprise was the inclusion of a small piece from the often overlooked album Death's Crown, a rarity that was good to hear, especially as it is so stylistically different from the bands 70's material, much more in an early 70's prog style with little fusion influence. Hopefully Happy the Man will treat their fans to another short tour in 2005, as now that they are back together it would be nice to soak them in as much as possible.

Kudos to Jim Robinson and his staff, who have continually put together some great shows the past few years in New Jersey for all East Coast prog fans to enjoy. We all need to help out Jim's efforts and spread the word of these special shows, in hopes that he can continue to book these types of events. It's always great to get together with friends, old and new, at shows like these Keep up the good work Jim!

NOTES FROM THE BLOGS ON HAPPY THE MAN

HTM produced some of the most stirring, complex, melodic, and MUSICAL works I have ever heard, and although they are rather rare, they are certainly very accessible and you should be able to find their stuff on domestic cd without having to plop down $35+ for it. Throughout their existence as a functioning band (from 1974-1978) they recorded three marvelous LP's. The following musicians appear on each one of these: 1. Frank Wyatt - piano, el. piano, organ, flute, sax 2. Stanley Whitaker - guitars 3. Rick Kennell - bass 4. Kit Watkins - synths, piano, el. piano, organ, flute.
Each album had a different drummer (seems the money-grubbing scum at Arista scared them away with their threats of having no commercial appeal as a band, or something like that....). The discography below shows the albums and who played drums on them: 1. Happy The Man - drums: Mike Beck 2. Crafty Hands - drums: Ron Riddle 3. Third: Better Late - drums: Coco Roussel. The first one is arguably the best of the three, although not by much as they are all truly spectacular. It was produced by Ken Scott, of David Bowie and Supertramp fame. This album defines the band's sound very well, one that endured throughout their career. For those of you who have never heard the HTM sound are missing something very special. The band claims to be influenced by Genesis, Yes, and Gentle Giant although they really do not sound anything like any of those bands. They were a band so far ahead of their time that, to this day, they still sound totally revolutionary.
The compositions tend to be rather complex and challenging, but they cleverly avoid falling into that dissonant trap that so many bands fall in to when they try to write something complex (e.g. the mid-section of Yes' "Ritual"). HTM maintains a melodic approach to everything they write. On this album you will find: (I quote a suitably impressed music critic) "dazzling artistic vision, instrumental virtuosity, and imagination," "fresh, exhilarating and impossible to categorize (this means please do not try to put a label on this band like "progressive" - it will make a lot of us very mad)," "witness HTM's masterful use of dynamics, tonal colors, and counterpoint; their ability to execute finger-breaking time signatures with deft ease; the lattice-like melodies and ingenious thematic variations that surge and recede with unusual grace and power; and the fact that no matter how complex or demanding their music became, the band always sounded uncluttered and in total control." There. Couldn't have said it better myself. Each member of the band is exceptionally gifted...there is no one single dominant member.
The writing is carried out by Watkins, Wyatt, and Whitaker. Watkins tends to write pieces with a lot of symphonic flourish, and you can bet your life there will be some awesome lead synth playing (usually done on a MiniMoog). I once thought Keith Emerson, Rick Wakeman, and Tony Banks were the best around....then I heard HTM. Kit Watkins can bury those guys with his right hand alone. You have to hear him to believe it. His Minimoog settings have an unsurpassed clarity to them, and he knows exactly how to use the pitch-bending feature of the instrument at the right time. I have an old article from Keyboard magazine, around 1982, that shows the settings he used on the MiniMoog to obtain this remarkable, unique sound. Words cannot describe his technical prowess, honest.... Whitaker writes more upbeat, punchy songs, like "Stumpy Meets the Firecracker in Stencil Forest" from the first LP. Wyatt tends to write the songs with the lyrics, which were sung by Stan Whitaker.
Here's what is available on CD to date: 1. Retrospective - a compilation of most of first and second lp, with some stuff from 3rd. Great place to start. 2. HTM 3rd: Better Late 3. Beginnings - features material recorded live in 2-track studio in 1974-75. Features a singer called Cliff Fortney who left the band before being signed to Arista. Very rough recording, but some really great songs. Some are not up to their usual standard of excellence, however. Recommended only for die-hards. Do not start with this one. 4. HTM and Crafty Hands were released on Japanese CD, but only 500 copies of each....I have never seen one myself, but I understand they sell for nearly $250 each at shows.
THE best U.S. progressive, hands down! Beginnings collects from the earliest years of the band, and is supposed to be exclusively for established fans. (Can you tell I haven't heard it?) The first actual release was the self-titled LP from 1976. Showing influence from Gentle Giant, King Crimson, yet retaining an original identity, they weave an intricate, mostly instrumental tapestry with flutes, saxes, guitar and multiple keyboards. A very impressive debut. Crafty Hands is their classic LP, almost entirely instrumental, with moments of striking beauty ("Morning Sun", "Open Book") and others of hair-raising energetic prog jamming ("Ibby It Is", "Steaming Pipes"). The unbelievable "Service With A Smile" proves that great prog numbers need not be long, it's under three minutes! And "Wind Up Doll Day Wind" is their finest vocal number, with lyrics that give Peter Sinfield a run for his money. If you can find it, don't hesitate to get it! These two albums were anthologized on the CD Retrospective. The third album, recorded sometime around 1979 but not released till the mid-eighties, is the weakest of the original three, but has enough good music to make it worth completing your collection for. "Labyrinth" is as good a song as they've ever recorded, worthy of the best of Crafty Hands. "Eye of the Storm", "Run Into The Ground" and "While Crome Yellow Shine" (huh?) are other good ones. They include a couple of weak vocal tunes ("The Falcon", "Shadow Shaping") that make this one not as desirable to own, but it's not bad.
--Mike Ohman

A great band that didn't make it because generally people are musically stupid. Kit Watkins, the keyboardist star of the band, went on to play on a couple of Camel albums but then drifted off into obscurity. He's still making interesting albums though. Because they got signed and apparently fronted enough money, the production on their albums is phenomenal - it holds up well today. Gentle Giant-like in complexity, the musicianship is somewhat better. Kit is an amazing keyboard soloist - a speed demon with an uncanny sense of melody. They never did get a good singer so their best stuff is generally instrumental. A lot of weird and shifting time signatures. "Cosmic" sounding.
This group has a very interesting and well developed sound, their first two albums which were recorded in the late 70s sound like they were recorded just yesterday, they were quite ahead of their time. I got Retrospective and liked the CD 10 times more the second time I heard it than the first time. Definitely a grow-on-you group. Seems influenced by Gentle Giant sometimes, gets kind of new-age towards the end of the CD.
One of the best american progressive bands, years ahead of their time - the first two albums sound as fresh and innovative today as they did fifteen years ago. The music is about 90% instrumental, with strong leanings in a jazzy direction, their music is dramatic, complex and sometimes humorously quirky, with bursts of melodic color and odd-time signature explorations throughout. Retrospective is a collection of tracks from their two albums HTM and Crafty Hands (plus a few from their posthumous 3rd), and even though a few excellent tracks from those two are left off, it is still fairly representative of their best period, and a good place to start for the uninitiated. Their 3rd album wasn't released until around 83, and is overall more low-key than the first two, and far too serious - much of the humor in their music (as evidenced so well by early tracks like "Knee Bitten Nymphs In Limbo," "Stumpy Meets The Firecracker" and "Mr Mirror") had disappeared by the third album, and in comparison it pales, although its vocal tracks are far more cohesive than most they had done before. Beginnings is a collection of early recordings from the 75-76 period, prior to their first album. The material ranges from excellent to so-so, as does the recording quality, but may show some convincing evidence of Canterbury influences in their roots. For serious collectors only.
Excellent band from the USA, featuring Kit Watkins of Camel fame and Coco Roussell of Heldon fame. The music is strongly keyboard oriented and they had two keyboard players. There is also sax, flute, and guitar to round out the mix. The music ranges from dramatic to the sublime, always powerful. There is complex interplay between all the musicians such that it takes several listens to fully comprehend how intertwined the instruments are. The interplay will remind you of Gentle Giant. The melodic lines might remind you of Yes. The music will remind you of how wonderful truly innovative music is. I finally found Retrospective in a cut-out bin and thought I would have to be satisfied. Recently, however, they repressed Crafty Hands for either the third or fourth time. That should give you an indication of how popular it is. The album is everything everyone says it is and more. Snatch it up if you have the chance like I did. You will not be disappointed.
The edition of these 1979 recordings (3rd, Better Late...) remind us of just how regrettable the disappearance of this excellent group is. A music that defies description and a sound that isn't the least bit outdated. Always very melodic, this unique blend of symphonic rock and jazz relies on rich arrangements of keyboards, guitars, bass, vocals, drums, percussions, flute and saxophone. The sustained use of these instruments provide much richness to the sound while solid performances provide dynamic energy. Five excellent musicians that played, we now realize, ahead of their time.
--Paul Charbonneau

I'm not ashamed to admit that my first hearing of this stellar band (named for the Genesis single?) was when I ordered Cuneiform's Live (1997, from a D.C. show in '78) and Death's Crown (1999, recorded in 1974) from my local record shop just a few years ago. I was excited to hear one of a tiny number of American groups who were, in their time, doing top-notch instrumental rock and whose lack of notoriety was apparently because (as one GEPR contributor put it) "generally people are musically stupid." I'm not sure of that. If true, artists like Hendrix, Mahavishnu Orchestra, King Crimson and ELP would not have sold in the numbers they did, but it is true that HTM don't reach out and seize you the way those acts tend to. It may take you a few listenings to appreciate the brilliant arrangements, incredibly tight group playing and tremendous facility of the members. Live is an excellent intro and has many of their best cuts from earlier albums but Death's Crown is a true lost treasure of early American syn-phonics. What a treat to hear a native band do a real rock opus very early in their career, namely the epic eleven-part title track clocking in at an astounding 38 minutes. Some of the best unknown music you'll ever hear.
--David Marshall